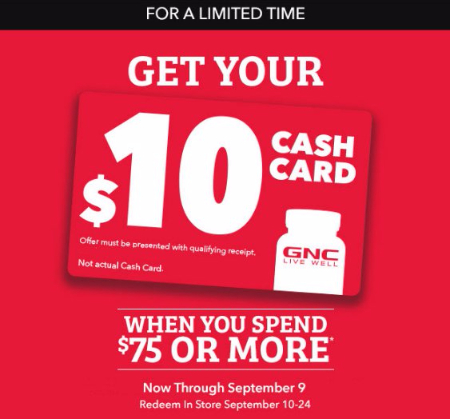 Don't miss out! Get you $10 Cash Card when you spend $75 or more. 
Redeemable in store only September 10-24, 2016 with a qualifying receipt. One-time use only. Cash Card is not legal tender. No cash value. Cash Card can be redeemed during the stated redemption window with any other offer. Cash Card is not valid toward the purchase of a GNC Gold Card or gift card. Cash Card is not valid if the merchandise purchased that earned the Cash Card is subsequently returned. Cash Card is nontransferable. Not valid at GNC.com or GNC Rite Aid locations. See associate for details. 
 
Valid through September 9, 2016
Valid through September 26, 2016
Sign Up For Our Newsletter!